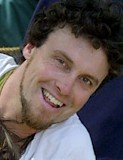 Brian Patterson has been performing his Punch & Judy Show since 1990. In California, as the son of the producers of the original Renaissance Pleasure Faires, Brian had grown up seeing a lot of theater and puppetry including Punch &Judy.
He got the first notion to give the show a try when he was 25 and ventured to England at the age of 30 where he finally learned the sacred art of the Swazzle at the 1995 Covent Garden May Fayre Festival for Punch & Judy.
His show has been enjoyed internationally as he has traveled and performed in Italy for Carnivale, England for the festival of the Millennium in Birmingham,  and the Big Grin Festival in London 2012 for Punch's 350th birthday.  As well as, Canada for the Edmonton Fringe Festival and even Malibu, California for Pierce Brosnan!
The version Brian presents is a mix of classic traditional Punch & judy with a contemporary edge that todays audiences can identify with. Brian also hand sculpted, painted and costumed all of his puppets as well as the theater in which the show is done.
At 48 he continues to perform the show as his full time occupation.